FINAL STATS FOR #IPD18 ON TWITTER:
744 Contributors  / 7,795 Tweets / 17,369,608 impressions

JOIN US TO CELEBRATE INTERNATIONAL PRINT DAY (#IPD18) ON OCTOBER 17, 2018
Declare Your LOVE for Print and Participate in 24-Hours of Global Knowledge Sharing Through Social Media.
HELP PRINT TREND THE PLANET!
This year our theme is COLLABORATION! We are all in this together and when we work together, share ideas and create projects and products together, we are all better for it – and so are the projects and products.
Download the super cool #IPD18 poster created by Craig Bower of Design That Rocks. Get the THRUBOX app from your mobile store and get ready for an awesome Augmented Reality experience that will launch on Oct 17, 2018 thanks to Robert Young our amazing friends at Miralupa.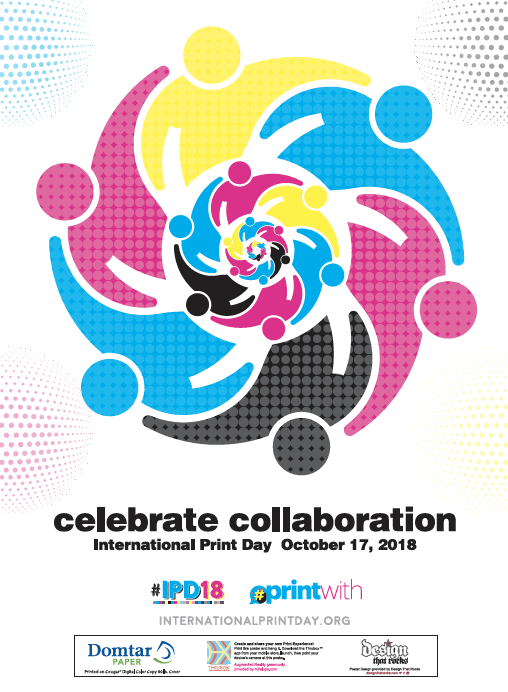 #PrintWith is the hashtag to be used when supporting our collaborative theme, and always include #IPD18 in all shares for International Print Day. The logo can be downloaded here as a PDF. It was also created by Craig Bower of Design That Rocks.

Watch this site for #IPD18 news and information, join the mailing list, and of course connect with us on SOCIAL MEDIA.
Our annual International Print Day #PrintChat is held at 4 PM ET October 17, 2018 – do NOT miss that!
SHARE LONG AND PROSPER