INTERACTIVE CONFERENCE PROGRAM
Click here to access the interactive program through your browser and mobile device
Take the quick tutorial to unlock all the features. There is a dropdown menu (3 blue lines) to change your view and see more information.
Interactive Conference program produced by BlueToad
---
PRINTING FILES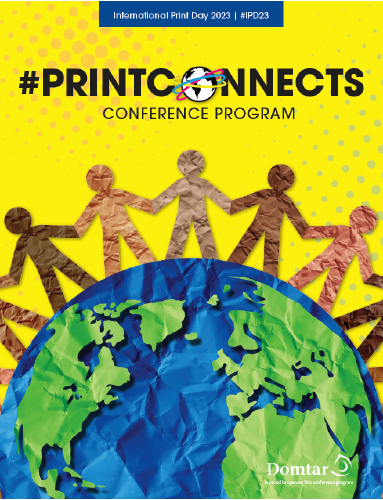 Download the InDesign and PDF files for the International Print Day Conference Program.
THE BACK COVER IS CUSTOMIZABLE – ADD YOUR INFORMATION AND PROMOTE YOUR BUSINESS!
If you print the program on Domtar Paper contact Meredith Collins.
Domtar will share images and highlight your company through their channels – which leads to tons of visibility with creatives, designers, and marketers!
The program was designed by Christine Alexander, Creative Squirrel Studio